Tuesday, 26th November 2019
Priceless 18th century jewellery stolen from Dresden's Grünes Gewölbe historical museum, on Monday 25th November 2019. What protective security measures existed? What risks were known and what else could have been done to prevent this burglary from happening?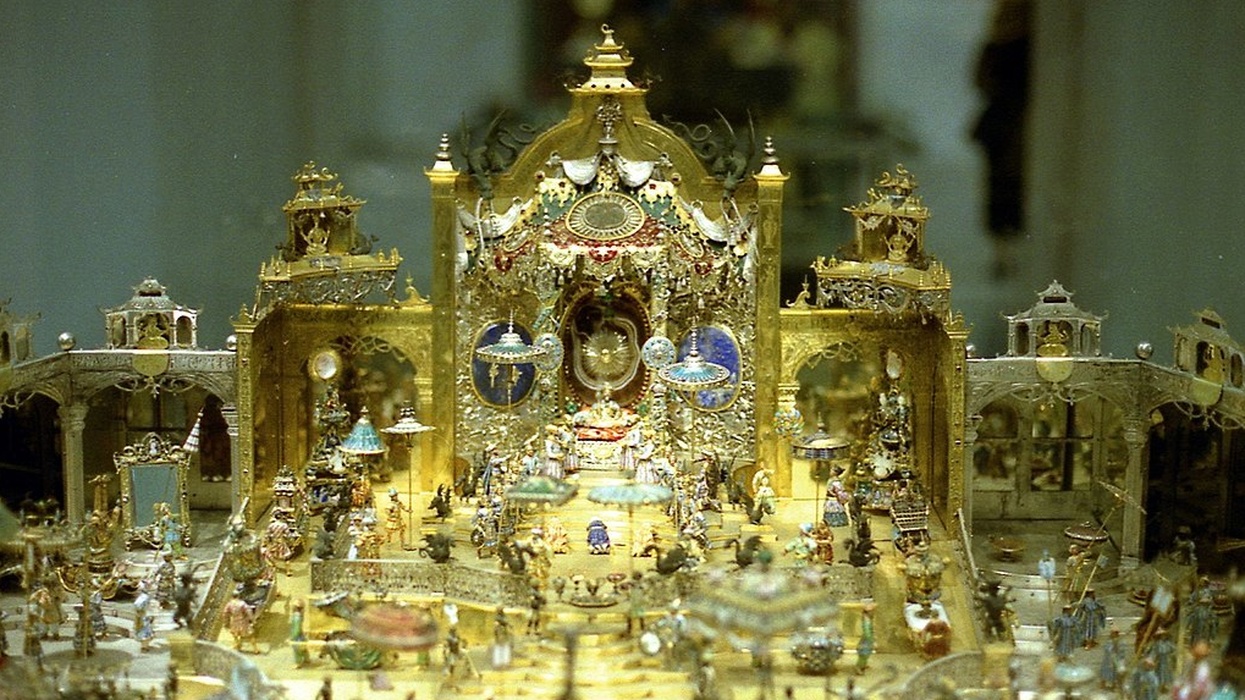 At about 5 a.m. on Monday 25th November 2019 a burglary took place at the Grünes Gewölbe museum (translated as Green Vault), a former royal palace housing 3,000 items of jewellery and other artefacts decorated with gold, silver, ivory and pearls; the most valuable of which are located on the ground-floor.
From what is known at the present it appears that the criminals attacked an electrical junction box setting fire to the cables and as such disrupting the museum's alarm system and impacting some of the streetlights. The criminals are then seen smashing their way into the museum via a ground floor window, after removing some metal grilles. The next CCTV footage shows them attacking display cases with either an axe or hammer before escaping with items rumoured to be worth around 1 billion euro and irreplaceable. A burnt out car was found which was believed to have been used by the criminals.
There were guards on duty and there were multiple alarm activations. However, they did not respond and instead awaited the arrival of the police; by which time the criminals had escaped.
Whilst not all of the facts are known there are a series of questions that should be asked; specifically with regards to whether vulnerabilities had been identified, accepted or ignored. These include:
-What measures were used to protect the exposed junction box from attack? Was this identified as critical infrastructure for the museum?
-If it was already identified why was there no resilience in the form of on-site generator's or UPS systems?
-Types of physical security measures that were deployed to protect the windows and to prevent direct access into the gallery space.
-The physical security rating of the glass used in the cabinets. Was it laminated glass or ASF (Anti-Shatter film)? What standard did it conform to?
-Displaying highly valuable and criminally attractive items on the ground floor may have increased the vulnerability of the artefacts. (Elevation is sometimes an appropriate measure as it increases the time needed to achieve the goal.)
-Had staff received situational awareness and surveillance detection training? Due to the obvious planning that took place prior to this attack surveillance must have been used; either directly or by third parties.
-Were the operational practises sufficiently robust and when were they last reviewed? If, as report suggest the guards did not respond upon being notified of the attack was this acceptable; who had signed off this procedure? Opportunities for proactive interventions could have taken place if the educational measures were sufficient and the operational practises fit for purpose.
A really unfortunate incident but one that shows organised crime groups continue to target museums and other cultural venues. Gone are the days where the protection of museums and other cultural venues can be left in the hands of people without the specialist knowledge, skills and expertise.
Trident Manor continues to deliver global programmes that provide cultural venues with solutions to manage identified and anticipated threats and risks in a sensible and pragmatic way. This includes the creation of a bespoke suite of training programmes that have been delivered to international audiences.
For further information about how Trident Manor can assist and support the protection of your venue why not visit our website; or contact us directly via Contact Us.
(Image: By Hajotthu, CC BY-SA 3.0 de, https://commons.wikimedia.org/w/index.php?curid=36...